Netguru Goes Forward With Full Carbon Neutrality in 2022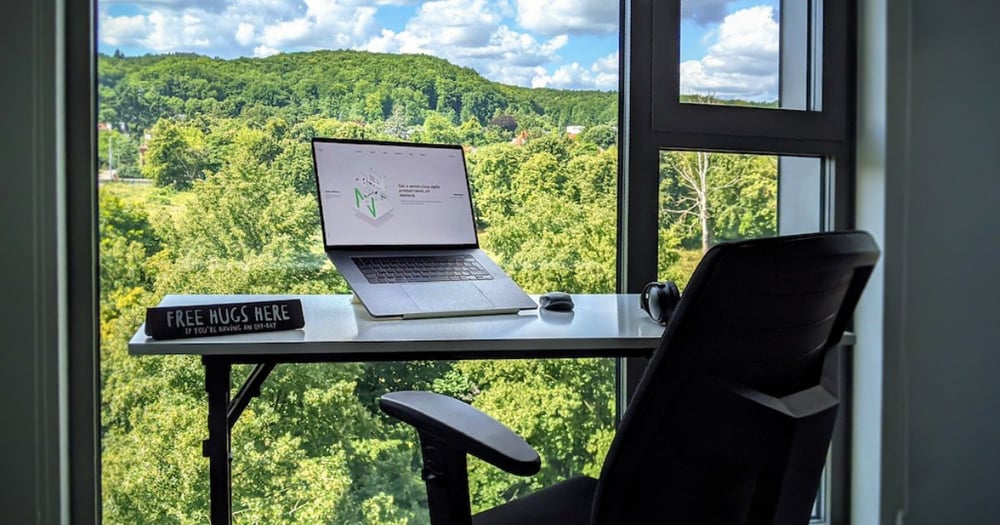 The company decreases its CO2 footprint, offsets unavoidable emissions through a tree planting project by a green tech startup TerGo.
As part of its sustainable development strategy, Netguru calculated its CO2 footprint and introduced a set of measures in order to decrease it, contributing to fulfilling the Paris Agreement. The remaining unavoidable emissions will be offset through a tree planting initiative managed by TerGo, with a major focus on supporting local communities in Central America.
"We will achieve full climate neutrality by the end of 2022,"
– wrote Marek Talarczyk, Netguru CEO back in September 2021 when the company – a certified B Corporation – identified and calculated all its emissions across the organization.
The overall business model of Netguru is quite efficient in terms of emissions. Most of its people work remotely and only some of them actively travel for business purposes. The company has small hubs or offices in several locations, available to any team member. Lastly, most of their cloud computing is done through servers that are already neutral.
Yet, following international guidance, Netguru calculated all three scopes of their CO2 footprint. Scope 1 covered direct emissions from owned or controlled sources (e.g. local offices' heating). Scope 2 covered indirect emissions from the generation of purchased electricity, steam, heating, and cooling. Scope 3 – the most difficult one – included all other indirect emissions that occur in the value chain (e.g. business travel), and it had to be based on estimations to some extent.
In the end, Netguru's total emissions for 2021 summed up to 376 tonnes, while the CO2 footprint per employee was smaller than in 2020 (430 kg per person in 2021 vs 600 kg per person in 2020).
Today, Netguru announced their plan for offsetting remaining (unavoidable) carbon emissions through a Belize agroforestry program developed by TerGo, a startup offering innovative solutions to organizations that care about the planet.
"Our goal is not only to remove carbon from the atmosphere, but also to commit to a large social and economic impact on the local community and biodiversity,"
– underlines Karolina Długosz, Sustainability Lead at Netguru.

The offsetting project supports local communities implementing the UN Sustainable Development Goals. Tree growers and keepers who care for proper forest growth are hired among the local people. They are paid wages 100% more than the national average, along with a free board, free transportation, and accommodation built for this purpose. Finally, the farmers and the local community receive the entire harvest, and whether they sell the fruit or use it in other ways, it is up to them.
"Developed countries should invest in countries that are most affected by climate change – this is how climate justice works."
- Karolina Długosz, Sustainability Lead at Netguru
Making events sustainable
Netguru also plans to measure and decrease their event CO2 footprint. As a trial project, the company analyzed emissions for their flagship Disruption Forum event organized in October 2022 in Berlin. The overall emission level reached slightly over eight tonnes and will also be offset in partnership with TerGo.
"Developed countries should invest in countries that are most affected by climate change – this is how climate justice works. We will keep calculating, reducing, and offsetting what is unavoidable, and we encourage every other organization to follow this path," adds Długosz.
Netguru has joined the B Corp (Benefit Corporation) movement in 2020, officially pledging to include environmental and social goals in its business strategy.
More information
About Netguru
Netguru is a digital acceleration consultancy founded in 2008. Netguru builds digital products that let people do things differently – offering consulting, tools and resources to companies of all shapes and sizes – to make beautifully designed digital products in a way that's fast and fits their needs.
Netguru has become one of the fastest growing companies in the EU, recognized by the Financial Times, Deloitte, and Forbes. The company has completed more than 1000 projects, and has 900+ people on board working from all over the world. Since 2020 Netguru is a Certified B Corporation meeting the highest standards of verified social and environmental performance, public transparency, and legal accountability.
Netguru cooperates primarily with companies from the UK, Germany, Switzerland, the United States as well as the United Arab Emirates. The company works with both the largest brands in the world, such as Volkswagen, IKEA and Keller Williams, as well as fast-growing startups in the financial ( Solaris), education ( Babbel) or even robotics ( Temi) industries.
About TerGo
TerGo offers a unique full-stack approach toward carbon calculation, reduction, and offsetting. It shares a variety of free, web-based carbon footprint calculators for individuals and businesses that allow instant estimations of carbon footprint resulting from flights, lifestyle choices and event organization. Tergoscope is an innovative tool that allows companies to calculate their Scope 1 and 2 emissions easily. The company supports users with extensive carbon reduction data, thus facilitating global climate efforts. All the unavoidable emissions can be easily neutralized with TerGo's highest-quality carbon offsets from Belize agroforestry project. TerGo further supports users and businesses with the carbon labelling service. As the cherry on top, the company will soon launch TERbit – the first app worldwide to reward users for reducing carbon emissions.