How Smart Mirrors are Transforming In-Store Experiences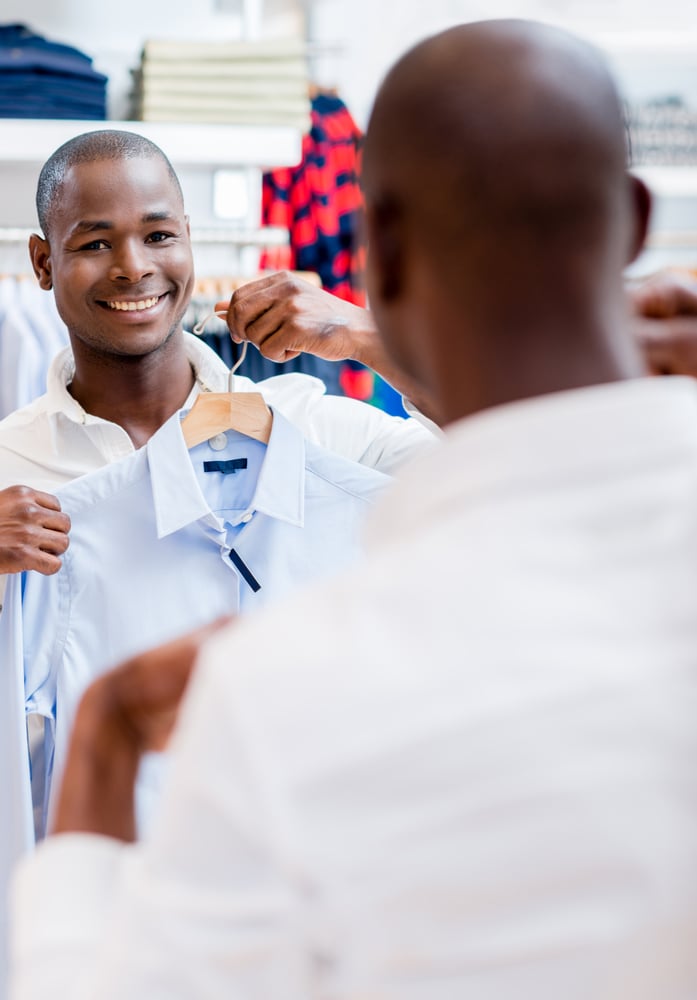 Smart mirrors, which combine virtual reality with traditional purchases, are transforming shopping into an innovative, convenient, and engaging experience.
Smart mirrors provide customers with a time-saving shopping experience by eliminating the need to browse through numerous products or try on clothes. Retailers also benefit from smart mirrors as they save time on consultations, gain an additional marketing communication channel, and increase conversions.
According to "Smart Mirror Global Market Report 2023" published in March 2023 by Reportlinker.com, the global smart mirror market grew from $2.82 billion in 2022 to $3.28 billion in 2023 and is expected to reach $5.58 billion in the next four years.
Considering the growing trends in the smart mirror market, let's explore how this technology is transforming in-store experiences.
What is a smart mirror?
A smart mirror, also known as a "magic mirror," is an interactive device powered by artificial intelligence that displays digital information such as weather updates, news, social media feeds, and calendar reminders alongside the reflection of the user. It connects to the internet and communicates with the user, enabling them to access a wide range of information and services while going about their daily routine.
Smart mirrors are equipped with advanced features, including voice recognition and touchpad integration, enabling customers to interact with a virtual assistant. This intelligent helper assists customers in finding personalized products, browsing and filtering offers, making purchases through the touchscreen, and informing them about current promotions. Smart mirrors also allow users to take photos and videos, which they can download through QR codes to their mobile devices and share on social media platforms. Additionally, smart mirrors can simulate different environments and display widgets that deliver important information, such as breaking news headlines.
From the invention of the traditional silver mirror in Germany over 200 years ago to the present day, technology has come a long way. This futuristic idea was once just a scene in the 2000 film "The 6th Day," where Arnold Schwarzenegger's character was greeted by a mirror that wished him a happy birthday and presented his schedule for the day. Fast forward to today, and this science-fiction concept has become a reality.
Where is the magic? A few words about technology
Virtual mirrors that utilize augmented reality are part of the Internet of Things (IoT), combining advanced technology with real-world objects. These mirrors consist of hardware such as an electronic display and sensors located behind the glass, software, and services.
Smart mirrors are equipped with artificial intelligence and machine learning that recognize faces and gestures and respond to commands. They connect through Wi-Fi and Bluetooth and can communicate with apps and cloud-based platforms.
The first person who turned the film gadget into a real device was Max Braun from Google. The software engineer turned his traditional bathroom mirror into a smart one in 2016. Through his innovative design, the magic mirror not only displayed the current weather and date, but also kept him up-to-date with the latest news. How did he do it? He bought a two-way mirror, a few millimeters-thin display panel, and a controller board. Then, he used a simple Android API for an interface, Forecast API for the weather, an Associated Press RSS feed for the news, and Amazon's Fire TV stick to run the UI.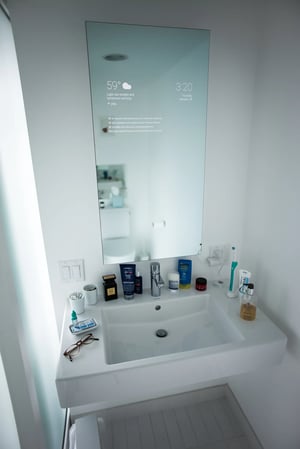 Source: Medium, OneZero
Max Braun inspired not only amateur inventors to do some experiments. His mirror also enhanced inventors to create the device for commercial use. Now the market is worth billions.
How do smart mirrors change the user experience?
Nowadays, smart mirrors can measure body temperature, examine skin condition, correct users doing exercises in the fitness club, and even enhance the morning routine in hotel bathrooms by playing music or displaying favorite TV programs.
Virtual mirrors provide an efficient way for customers to make purchases that is similar to the experience of online shopping. This is due to the virtual try-on options, access to products that may not be available in physical stores, and personalized outfit and accessory suggestions that retailers can offer.
There are various roles that smart mirrors can fulfill, such as:
Virtual try-on: Smart mirrors take photos or videos and measure the dimensions of the person standing in front of them to display outfits that fit their body type. Customers can view 360-degree images in different sizes and colors to see how they look.
Virtual assistant: Magic mirrors can also serve as advisors, providing style and makeup recommendations, suggesting accessories to enhance an outfit, and helping customers discover available offers.
Advertising: Smart mirrors can be the channel for displaying customized marketing information. It can offer discounts, encourage customers to sign up for newsletters, get feedback, or recommend additional accessories to the chosen outfit.
Omnichannel purchase: Customers receive access to the online platform, where they can check product availability and buy items without standing in lines; they purchase directly from the mirror.
Entertainment: Smart mirrors can interact with the customer through visual and audio stimuli. It can give tips, respond to voice commands, and inform about upcoming events. It also gives access to different backgrounds where the customers can try on new outfits.
Smart mirror examples in practice
1. H&M case study
The company has installed smart mirrors equipped with Microsoft Azure-powered voice assistants in the Times Square store. The marketing campaign was based on the idea of "Instafame" and "being the star for one day". Everyone could take a selfie in front of the mirror, and it was changed into the first page of H&M fashion magazine. Customers could download it through a QR code on their mobiles and publish it on social media or send it to friends. The virtual assistant gave them tips and recommendations for different outfits based on their style. The result? 86% of customers who took selfies scanned them with a QR code, and 10% of them signed up for marketing emails.
2. Wella Professionals case study
A Smart Mirror powered by Wella's patented CareOS operating system lets customers access products available in their salon. It enables them to try different hair colors in real-time, see their hair in 360° video capture, compare past customer looks thanks to facial recognition, and discover trends. It also connects to more than 50 health and beauty services and devices and uses touchless technology that responds to swipe hand gestures.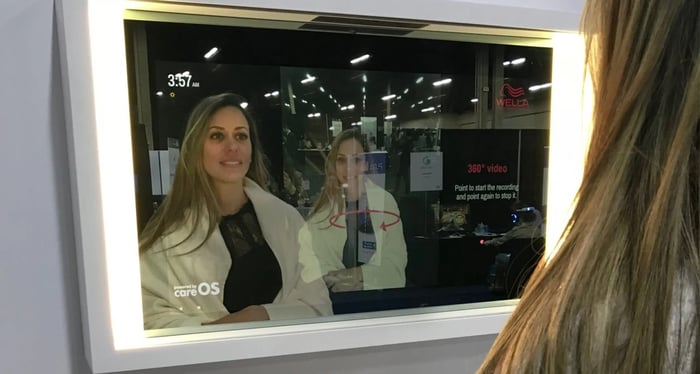 Source: Coty.com
3. Adidas' case study
The London store on Oxford Street features fitting rooms equipped with smart mirrors that detect products and show them in different sizes and colors. Customers can also take photos in different environments and share them on Instagram.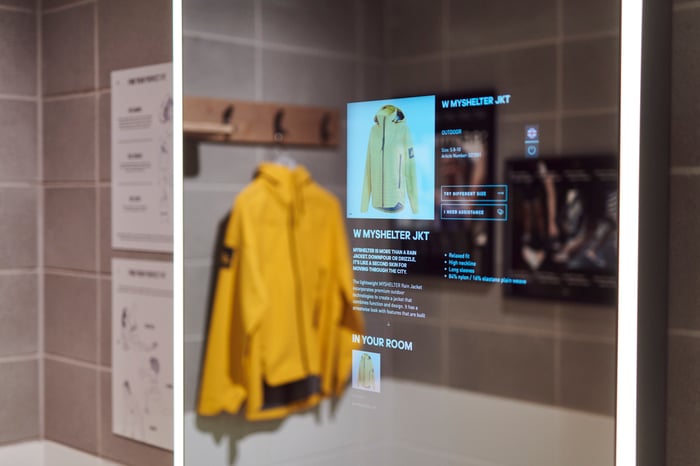 Source: chargedretail.co.uk
Win-win: the benefits of smart mirrors
Smart mirrors offer customers a unique shopping experience that combines shopping efficiency and entertainment.
The retailer benefits by achieving key objectives, such as customer engagement, loyalty, and increased conversion. Smart mirrors allow retailers to personalize offers, collect customer data, create sales leads, and showcase a wider range of products.
Moreover, customers can share their shopping experiences on social media, which promotes brand awareness.
In addition to improving the customer experience, smart mirrors can positively impact store management by enabling more efficient product storage and reducing the workload of human advisors.
However, the cost of equipping shops with smart mirrors can be high. Some customers may also have concerns about the use of personal data collected through the mirror, which should be addressed by the brand.
Future of shopping experience
Introducing innovative solutions to physical stores has been forced by the popularity of online shopping, its speed, and its comfort. Retailers use augmented reality to create new shopping experiences that blend elements of traditional and online purchases. This technique helps to attract and retain customers for longer periods, leading to increased engagement and loyalty.
It seems that the stores of the future will be places where the border between the virtual and real world becomes less and less noticeable.