The Best Retail Apps That Ride the Mcommerce Wave for Profit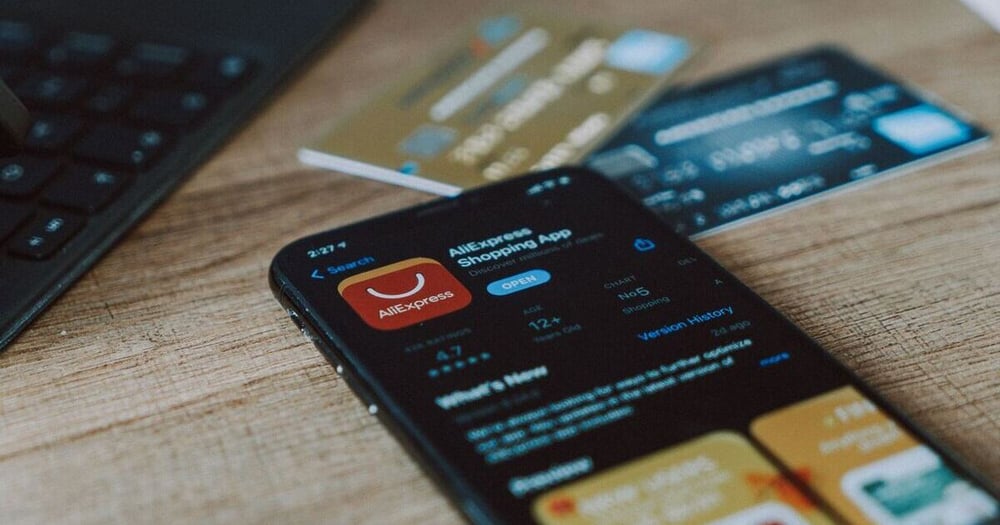 If you're looking for inspiration and benchmarks before building your next mobile app, this article will open your eyes to the potential of mobile retail apps and mcommerce.
The numbers in the area of online shopping are big, and its growth is only picking up in pace. An Insider Intelligence report in 2022 predicted that the US will see a record-breaking 218.8 million online shoppers this year who will spend an average of $5,381 each. What's more, experts predict that this number will only increase in the coming years, with 230.6 million US-based consumers expected to be shopping online by 2026 and spending an average of $7,250 each.
The growth of mobile shopping is driving this trend. In 2023, we expect mcommerce sales to account for 6.5% of total retail sales and 43.4% of total retail ecommerce sales. That's why it's high time to have a closer look at retail apps available in the US that will play a crucial role in the further growth of mcommerce sales.
Best retail apps ranking: selection criteria
The list is our selection based on the apps' ratings on the App Store and Google Play. The precise number of downloads isn't available for all apps, which is an additional factor. In fact, Apple doesn't publish the download statistics the way Google does.
For this reason, the number of downloads in the App Store and the average number of monthly users is based on data from Statista. It's from 2021, but gives you a good idea of how popular the apps are. For the App Store and Google Play app ranks, the main source is Similarweb data.
We divided the ranking into several categories so that it's easier for you to navigate and compare different industries and branches of mcommerce:
Mobile apps from the biggest physical retailers in the US
Fashion and accessories retailers
Ecommerce marketplace apps
Health and beauty retailers
Let's dig in and see who rules the board.
Apps by top US brick and mortar retailers
Walmart: Shopping & Savings
The Walmart app, ranked no. 4 on the App Store and no. 5 on Google Play, has garnered significant popularity, with approximately 12.8 million downloads on the App Store and over 50 million on Google Play. With 67.7 million app visits monthly, Walmart's mobile app makes shopping faster and easier in any category: fresh groceries, household essentials, the latest tech, and more.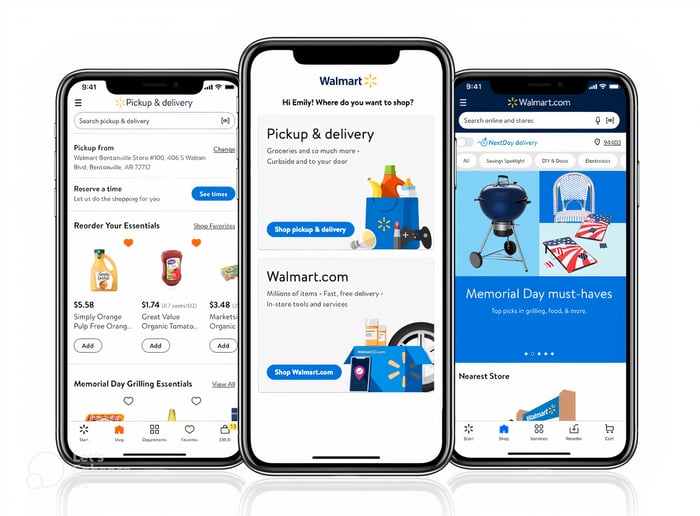 The app offers various time-saving features for physical visitors of retail stores and online shoppers alike: store maps, real-time order tracking, and the ability to reorder essentials quickly. Shopping lists can be created, shared, and updated for seamless planning, while Walmart Pay enables smooth checkout with all payment methods. Curbside check-in and barcode scanning further enhance the user experience.
Target
The Target app, ranked no. 9 on the App Store and no. 13 on Google Play, provides a seamless shopping experience for millions of users (over 10 million downloads on Google Play and about 8.3 million on the App Store). With the app, customers can plan their next Target run efficiently by consolidating personalized offers and item availability in one location.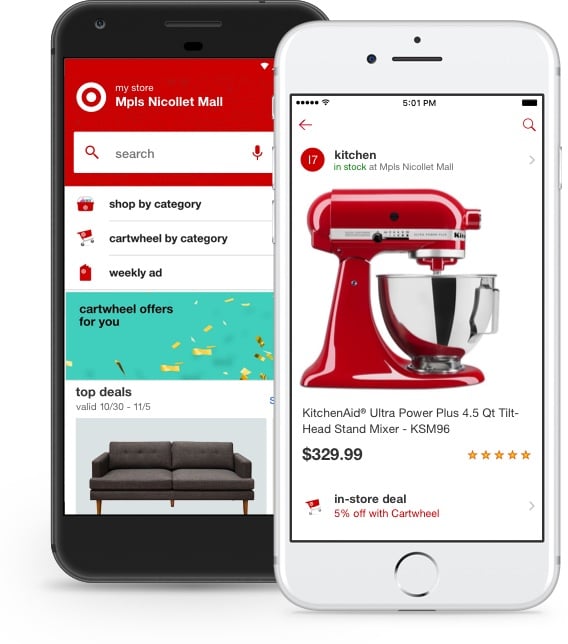 Store maps and aisle locations in brick and mortar stores streamline the in-store experience, while item barcode scanning offers easy access to prices, reviews, and available deals. The Wallet feature enables fast and easy payments using a credit card, debit RedCard, gift cards, and loyalty program earnings.
Best Buy
The Best Buy app, ranked no. 42 on the App Store and no. 38 on Google Play, offers a convenient platform for shopping electronics, computers, appliances, cell phones, video games, and other new tech items. With over 10 million downloads on Google Play (numbers for the App Store are undisclosed), the Best Buy app continues to serve as a convenient tool for tech enthusiasts.
The app features an augmented reality (AR) tool that allows users to visualize their purchased item in its final setting, such as the TV for their home theater setup, right on the screen of their mobile device. The Best Buy app also enables users to scan and shop items while providing information on nearby service options and store details, including popular shopping times.
The Home Depot
The Home Depot app, ranked no. 17 on the App Store and no. 8 on Google Play, has amassed over 5 million downloads on the App Store and more than 10 million on Google Play. The app offers a range of features that cater to both DIY enthusiasts and professionals alike.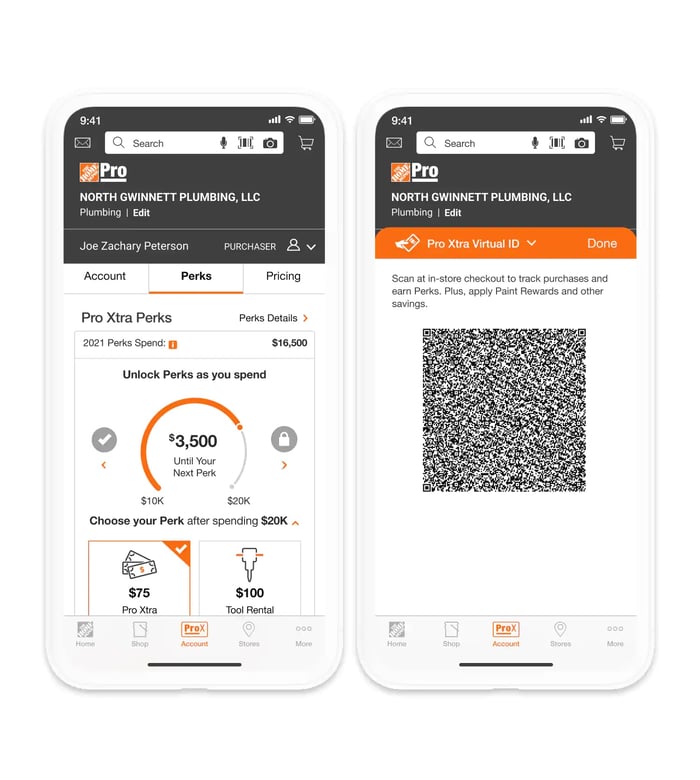 Home Depot's app enhances the offline shopping experience by providing real-time information on product availability and aisle locations. The geolocation feature displays items in stock at the nearest shop and streamlines the buying process. Sometimes shoppers look for products they need but don't know their specific names. Image search comes in handy here for identifying such items and spotting them inside the retail store, while the augmented reality function helps visualize how a new purchase would look in its final placement.
Fashion and accessories apps
Nike: Shoes, Apparel, Stories
The Nike mobile app, an essential tool for sports and fitness enthusiasts, ranks no. 5 in the App Store and no. 15 on Google Play. With over 50 million downloads on Google Play and around 10 million in the App Store, the app has contributed significantly to the company's digital growth.
During Nike's Q4 2022 earnings call, CFO Matthew Friend highlighted an 18% increase in digital revenue attributed to this growth in strong demand for Nike's retail app portfolio, which includes Nike: Shoes, Apparel, Stories, Nike SNKRS, Nike Training Club, and Nike Run Club. According to Friend, 50% of Nike's total digital demand is driven by these mobile apps.
Users can enjoy online product releases, in-depth stories, training and style advice, plus more. The app allows users to follow their favorite sports, athletes, teams, and products to get inspiration, chat one-on-one with experts for style tips or fitting advice, and much more.
Macy's
The Macy's mobile app, ranked no. 45 on the App Store and no. 41 on Google Play, boasts over 5 million downloads on Google Play. The app underwent a major makeover in 2021 and observed massive success with a 30% year-on-year increase in total sessions and a 68% increase in purchases. Consequently, there has been a 55% increase in total mobile revenue, including a 100% uplift in revenue per install and a 20% increase in revenue per session.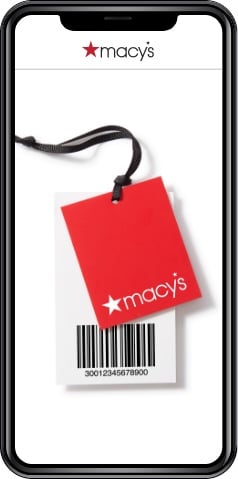 Personalized recommendations, lists, and favorites are just some of the app's features, alongside a new frictionless in-store return process. With location services activated, the user's experience is tailored as they enter their local Macy's. A 3D Room planning service, powered by Marxent, enables customers to virtually visualize their preferred interior decor in a custom-built room designed to resemble their actual living space.
Poshmark – Sell & Shop Fashion
Poshmark, ranked no. 14 on the App Store and no. 15 on Google Play, has become a favorite app among online fashion shoppers and sellers, particularly in the USA and Canada. The app has seen 6.7 million downloads on the App Store in 2021 and over 10 million on Google Play.
Featuring more than 9,000 brands, Poshmark makes it easy for users to find the items they want at affordable prices, sell unused clothes in under 60 seconds, and earn money from their sales. As a leading social marketplace, Poshmark caters to new and secondhand styles for women, men, kids, the home, and more. Moreover, Poshmark offers various other functionalities, such as styling suggestions from in-app stylists.
Marketplace apps
Amazon Shopping
Positioned as the no. 3 app on the App Store, with over 25 million downloads, and no. 4 on Google Play with an impressive 500 million downloads, the Amazon Shopping app sees an average of 120.38 million visits per month. Shoppers can benefit from app-specific features as they browse, read reviews, and purchase from an extensive range of products. Delivery services span across 100+ countries in as little as 3-5 days. The app offers additional functionalities compared to desktop browsing, such as voice shopping, notifications, visual search, and customer reviews.
Amazon has successfully increased the adoption of its mobile app by providing exclusive discounts and deals, such as substantial discounts for new customers and limited time offers. When customers order through the website, they are prompted to download and use the app for online shopping to take advantage of even better offers. This strategic approach enables Amazon to actively engage with its customer base and transfer their online traffic to a more personalized retail app.
AliExpress
The AliExpress shopping app has become a prominent mcommerce platform, catering to over 150 million customers in 220 countries and supporting 18 languages. With its no. 20 ranking on the App Store and no. 3 on Google Play, the app has accumulated over 600 million downloads across both platforms. AliExpress provides users with a wide range of products, from fashion and home to tech and sports. New users can benefit from exclusive deals or gifts.
The app's image search feature allows users to easily find items by taking a photo or uploading an existing image. Personalized recommendations are offered based on individual preferences, and top-ranking items can be sorted by order volume, views, or cart additions. Additional features include daily flash deals and automatic shipment notifications for order management.
eBay: Marketplace for Shopping
The eBay Shopping mobile app has established a strong presence in the e-commerce market, ranked no. 10 on the App Store and no. 12 on Google Play. With over 30.5 million downloads across both platforms in 2022, the app is available in more than 100 countries worldwide. eBay boasts approximately 1.6 billion live listings catering to diverse consumer needs.
In comparison to Amazon, eBay stands out as the preferred choice for used items and collectibles, despite many items being brand new. While Amazon may have a larger customer base and experience faster growth, some sellers continue to favor eBay as a pure marketplace that doesn't compete with its merchants for sales.
Etsy: Custom & Creative Goods
In the competitive US ecommerce market, which is dominated by giants like Amazon and eBay, Etsy has distinguished its retail business by focusing on unique, high-quality items. The Etsy: Custom & Creative Goods mobile app has seen a surge in demand that has more than doubled since the COVID-19 pandemic began. Ranked no. 7 on the App Store and no. 11 on Google Play, the app experienced a significant increase in downloads, from around 800,000 in January 2020 to over two million in January 2022.
The Etsy app provides users with easy access to millions of one-of-a-kind items directly from their phones and tablets. It simplifies browsing curated collections of handcrafted jewelry, vintage goods, customized furniture, designer clothing, and DIY kits, among other unique offerings. As a go-to destination for exceptional occasion gifts, the Etsy app streamlines the shopping experience with personalized recommendations and direct communication with shop owners. The image search feature added in 2022 helped Etsy leap forward amongst the fierce competition in shopping apps.
Temu: Shop Like a Billionaire
Since its launch in September 2022, the Temu app has made a strong impact on the ecommerce market. It has rapidly climbed the ranks to become the no. 1 shopping app on both App Store and Google Play. Remarkably, Temu secured the position of the 8th most downloaded shopping app in the United States last year, achieving 50 million installs in just seven months, a milestone that took rivals SHEIN and Wish about three years each to reach.
As the American subsidiary of Pinduoduo, a Chinese social commerce company, Temu offers a wide variety of products such as fashion, home decor, handmade crafts, beauty and cosmetics, clothing, and shoes. Catering to diverse customer preferences, the Temu app's rapid growth can be attributed to its attractive pricing and promotional strategies, encouraging users to share the app with friends in exchange for free products.
Beauty shopping apps
Sephora: Buy Makeup & Skincare
Sephora's mobile application, holding the no. 14 position on the App Store and the top spot in the Beauty category on Google Play, has garnered over 5 million downloads on Google Play. This app provides a comprehensive beauty shopping platform, delivering a wide range of features and advantages for an improved shopping journey.
Shoppers can uncover makeup suggestions by scanning products on shelves to access ratings and reviews. The Foundation Finder functionality helps individuals find a product that aligns with their preferred finish in a matter of minutes. The Sephora app offers all delivery and pickup options: in store, curb side pickup, same-day delivery, and free shipping.
Ulta Beauty: Makeup & Skincare
Ulta Beauty's app, ranked no. 17 on the App Store and below 50 on Google Play, has garnered over 5 million downloads on Google Play alone. The app provides a one-stop-shop for discovering and purchasing makeup, skincare, and hair care products, including the Conscious Beauty initiative to find eco-friendly and cruelty-free products.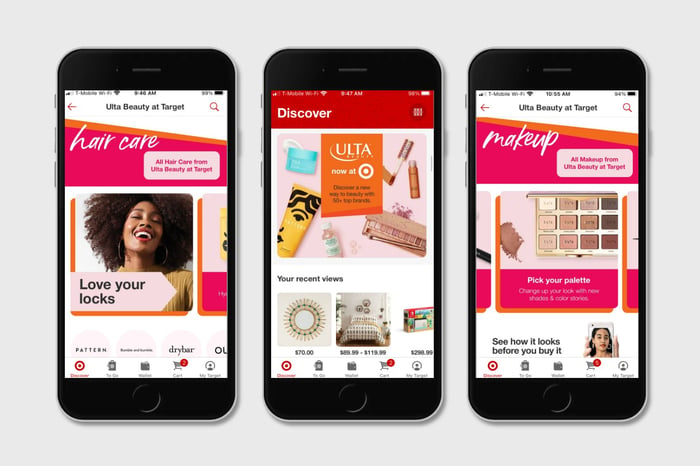 The app's GLAMlab feature offers a virtual makeup try-on experience, helping users find their perfect makeup colors and experiment with various looks. The Skin Analysis tool customizes skincare routines, while the Foundation Shade Matcher ensures the right makeup foundation shade. Users can also conveniently book beauty service appointments and check the availability of services at retail stores.
My Bath & Body Works
The My Bath & Body Works app, ranked no. 32 on the App Store and no. 19 on Google Play, has garnered over 5 million downloads on Google Play alone. This feature-rich app serves as a personal shopper, providing access to exclusive deals, product launches, and more. Upon joining, users can enjoy numerous perks, such as earning points towards free full-size products and convenient shopping directly through the app.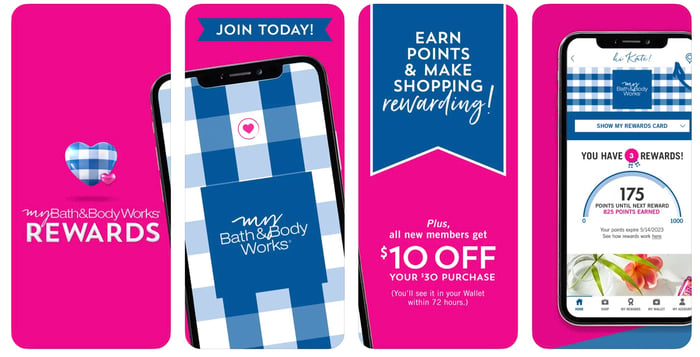 Mcommerce payment tools from tech giants
Shopping apps aren't the only way companies aim to profit off of the mcommerce boom. As mobile wallets and contactless credit cards become increasingly popular, top players in tech like Google, Apple, and Amazon are making their way to the forefront of the payments space. Each company has developed their own mobile payment solution to create an even more frictionless shopping experience across the web and on mobile apps.
Google Pay
Google Pay, formerly known as Android Pay, is a mobile payment service that allows users to make in-app, online, and in-person contactless purchases using Android mobile devices and via websites offering the Google Pay payment option. With biometric authentication options such 3D face scanning and fingerprint recognition, the service promotes both convenience and security for mcommerce shopping.
Available in 62 countries as of 2023, Google recently launched a revamped version of its Google Pay app for Android and iOS users. The new app includes checking and savings accounts in partnership with Citi and Stanford Federal Credit Union, and offers features such as peer-to-peer payments, money management tools, and discounts based on spending patterns. With no minimum balance requirements or fees, the enhanced Google Pay app has the potential to be a game-changer for customer acquisition.
Amazon Pay
Amazon Pay is an online payments processing service operating on third-party websites and apps. Shoppers can make payments for goods, services, and donations using the payment methods already associated with their Amazon account. This service was launched in 2007 in the United States and has since expanded globally to countries such as the United Kingdom, France, Germany, India, and more.
By partnering with Worldpay (later acquired by FIS Global), Amazon Pay has integrated its service with other merchant platforms to offer an easier and more streamlined payment process. Amazon Pay is just the beginning of the ecommerce tycoon's potential foray into financial services, as it provides a mobile wallet and buy button that can be adapted to different markets and ultimately establish an audience around a payment tool.
Apple Pay
Apple Pay is a mobile payment method enabling contactless payments in person, on the web, and on iOS apps using iPhone, iPad, Mac, or Apple Watch. Additionally, Apple Pay can be used for public transportation services in some regions using dedicated travel cards or credit/debit cards. With availability in 76 countries and territories worldwide, the service was expected to reach 48.7 million users by 2023.
With the help of NFC technology, Apple Pay provides a seamless payment experience that works with any merchant that accepts contactless payments, without requiring any specific Apple Pay-enabled terminals. The two-factor authentication system leverages Touch ID, Face ID, passcode, or PIN for an extra layer of security.
The future of mcommerce and retail mobile apps
The best shopping apps listed in our ranking not only take industry trends into account, but leverage the technological capabilities offered by mobile devices. Today's mcommerce experience goes way beyond push notifications, store locators, and digital marketing tactics.
Practically every company uses a mobile app to build a more loyal and engaged customer base by offering coupons and other benefits for shoppers. Both digital and physical retailers adopted image search for a quicker and more convenient shopping process.
Retail store chains, such as Walmart or Home Depot, integrate online and offline shopping paths, thus building loyal customer bases. AR features have made their way into shopping apps to answer the need for visual references, no matter if customers are looking for a new light fixture or trying to find the best foundation shade match. It's fascinating to watch how mcommerce is making a mark in today's commerce world. What will be the next big thing in retail mobile apps? We can't wait to see it!