A Break-Even in Just 11 Months. Mentality of Scarcity and Other Lessons from a Multi-Billion-Dollar Fintech

This fintech is probably less known than many companies such as those operating in B2C markets. But OakNorth Holdings proved that it is possible to scale to the unicorn status in a market niche as long as you've the right strategy.
This multi-billion-dollar fintech firm is focused on solving the problem of bespoke SME lending globally. In the UK, the firm operates as OakNorth - a challenger bank launched in 2015 that has profitably lent over £2.5bn to UK businesses without a single default to date. Outside of the UK, the business operates as OakNorth Analytical Intelligence, a data and technology platform licensed to other banks and lenders.
What were the key lessons learned from this amazingly fast journey? We invited Valentina Kristensen, the Director of Growth & Communications at OakNorth, to our Disruption Forum in London, to share the story.
Valentina regularly appears on Fintech Insider - the number one business podcast for fintech innovators and influencers - and is the Chair and a Founding Editorial Board Member of INFLUENCE, an award-winning quarterly publication.
She is a passionate advocate for improving the female talent pipeline in fintech, as well as closing the gender pay gap in financial services, sitting on the Steering Committee for FinTECHTalents which is working to address this.
In 2018 Valentina participated in the Money 2020 Europe Payments Race, where she travelled from Istanbul to Amsterdam using only wearable payment technology – no cash or cards.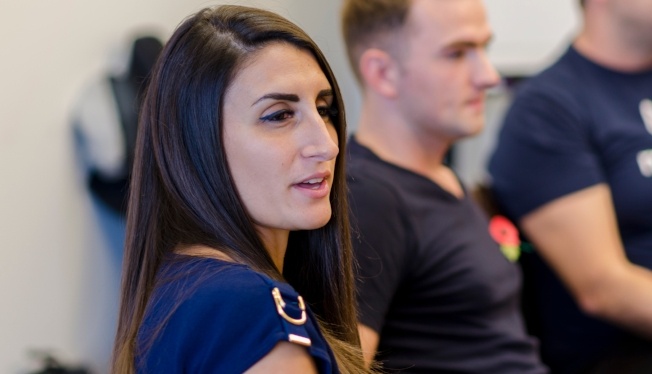 Valentina Kristensen, Director of Growth at OakNorth, shared a story: "From a startup to a billion dollar company in 2 years".
Tomasz Grynkiewicz, Netguru: As the Director of Growth at one of the fastest growing companies in the fintech space, what do you see as the number one challenge for the industry?
Valentina Kristensen, OakNorth: There's a lot of hot air in fintech and a lot of businesses coming up with solutions for things that don't have problems just because they can see this is a sector that's attracting a lot of investment. Many have secured tens or even hundreds of millions of pounds but don't appear to have clear strategy as to how they're going to make money in the future.
I worry that in a few years, once their rocketing growth stagnates, these businesses will be unable to survive and, as a result, a lot of the positivity and optimism around the fintech industry could disappear.
To balance this somewhat gloomy vision - what do you see as the most exciting things happening in the fintech industry right now ?
I'd say pension tech in the first place, as pensions are hugely important and hopefully, by making it easier to manage one, more people will save for it. I'd also name AI and machine learning.
In the UK specifically, the fintech bridges being driven by the Treasury and the Department of International Trade to facilitate innovation.
While you were telling the OakNorth story at our Disruption Forum, one of your slides caught my eye. The one in which you mentioned the mentality of scarcity. Why was it so important?
Our founders, Rishi and Joel, believe that too much money in the bank when starting out is a bad thing. This is because when a company has too much capital available upfront, it tends to be built on fundamentally bloated cost structures. Spending more money than is necessary becomes a part of the company's DNA and changing this is hard. Having little to no money forces businesses to operate from a mentality of scarcity, and these businesses end up operating much more efficiently.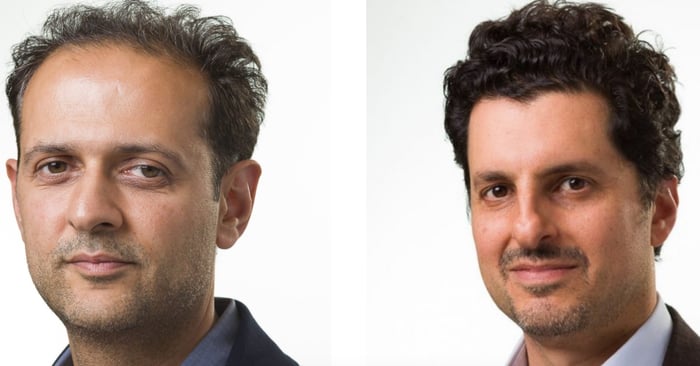 Co-founders of OakNorth: Rishi Khosla, CEO; Joel Perlman, Senior Managing Director
OakNorth's founders started their first business, Copal, with just £40k.
And over a period of 12 years, they built it to a 3000-employee business with offices in 11 markets, eventually selling it to Moody's Corporation in 2014. So, even though this success made it much easier for them to raise capital to start their second business (OakNorth), they still took a very frugal approach, ensuring that we didn't spend a penny more than we absolutely needed to. That has remained our philosophy throughout the OakNorth journey so far, and as a result, we managed to break even in just 11 months and make £10.6m pre-tax profit last year, which was only our second full year of operations.
That sounds impressive. What are the most important milestones to reach in your roadmap for 2020 or the next 3 to 5 years?
Outside of the UK, we now have about a dozen banks using the OakNorth Analytical Intelligence platform and we want to keep building on that number, so that SMEs all over the world can secure the debt finance they need to grow in the timeframes and with the structure that they need.
To date, our loans have directly helped with the creation of over 9,500 new homes and 11,000 new jobs in the UK. We want to continue building on this and compounding this multiplier effect through licensing our AI platform, OakNorth Analytical Intelligence, to other banks.
Considering how much we've achieved in the three years since our launch in 2015, I think we can go a long way in the next 3 to 5 years.
During your presentation at Disruption Forum you suggested that entrepreneurs should be prepared for the fact that the "right" team may change as you grow.
As businesses scale, they encounter new challenges and require different skill sets and expertise. This point was about the fact that the leadership team we had at the very beginning of our journey (i.e. when we were applying for a banking license), has changed quite a bit as we've grown. The team you need once you secure your banking license and begin trading is likely to be quite different to the team you need once you become a global business with billions of pounds worth of assets and offices in multiple markets.
From what I'm hearing, OakNorth invested a substantial amount of money in machine learning. What are the largest benefits of using ML in OakNorth?
It enables us to make informed credit decisions in a fraction of the time it takes larger lenders. Typically, we complete loans from first meeting to disbursement of cash in weeks rather than the months it takes other institutions. To date, we have lent over £2.5bn without a single default and we've had approximately £400m of repayments, which speaks to the quality of our loan book and the SMEs we lend to.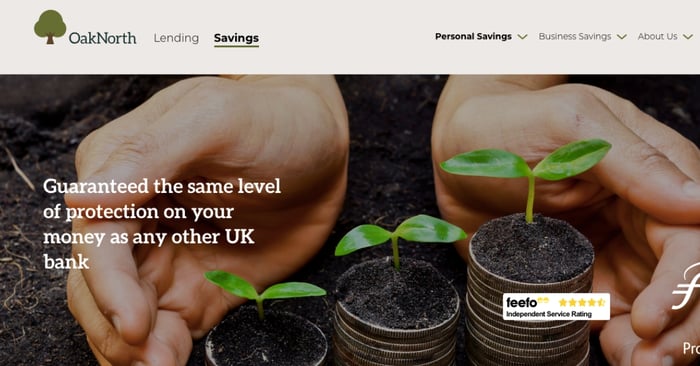 Speaking of numbers. Can you share any KPIs related to growth? What are your core metrics in evaluating if OakNorth is going in the right direction?
We look at several things: the growth and quality of the loan book, customer satisfaction (both for lending and deposits), profits, cost-income ratio, etc.
If you look at what we've achieved to date, I've already mentioned that we've lent over £2.5bn with no defaults and have had about £400m of repayments. We have attracted deposits from close to 30,000 customers with a Feefo rating of 4.5 stars, and we've done this profitably.
What do you see as the number one challenge for your company?
Overcoming inertia and getting SMEs to shop around when it comes to applying for a business loan – currently, 90% of SMEs in the UK seeking a business loan go to their current business account provider as their first port of call. If they get rejected, they often don't go anywhere else. As a result, there are hundreds of businesses a year who are unable to pursue their growth plans. That's thousands of new jobs that could be created and billions of pounds that could be added to the economy which are being lost.
You are a proponent of being creative in terms of financing. What are your tips for entrepreneurs?
Consider all your options – debt, equity, or a combination of both – as, depending on how much finance you're looking for, there'll be several options available to you. For debt, these include: debt crowdfunding, P2P lending, a bank loan, credit cards etc. For equity, these include: equity crowdfunding, venture capital, angel investment, private equity invest, SEIS/EIS funding.
The savviest of businesses develop relationships with multiple financial institutions, using multiple providers to ensure they get the best of every product and service. Don't just assume that your clearing bank will be able to complete a loan faster or more flexibly than another provider like us. Do your research and make sure you've considered all your options.
As the last question, which fintech companies inspire you in terms of strategy, customer experience, and technology?
Regarding strategy and growth, well, obviously I'm going to say OakNorth. We've built a profitable $2bn+ company in less than three years and are trying to dramatically improve the borrowing experience for SMEs around the world.
When it comes to customer experience – Monzo wins this category, for me personally. I am a customer and think it's a great user experience. They just need to start paying me for my savings! And I'd also like to add DeepMind for their tech - what they're doing with AI is incredible.
The Future Landscape of Fintech. 5 Key Takeaways from Disruption Forum London