06 Environment
🎤 Expert's voice
We will feel the impact of 2020 for years to come.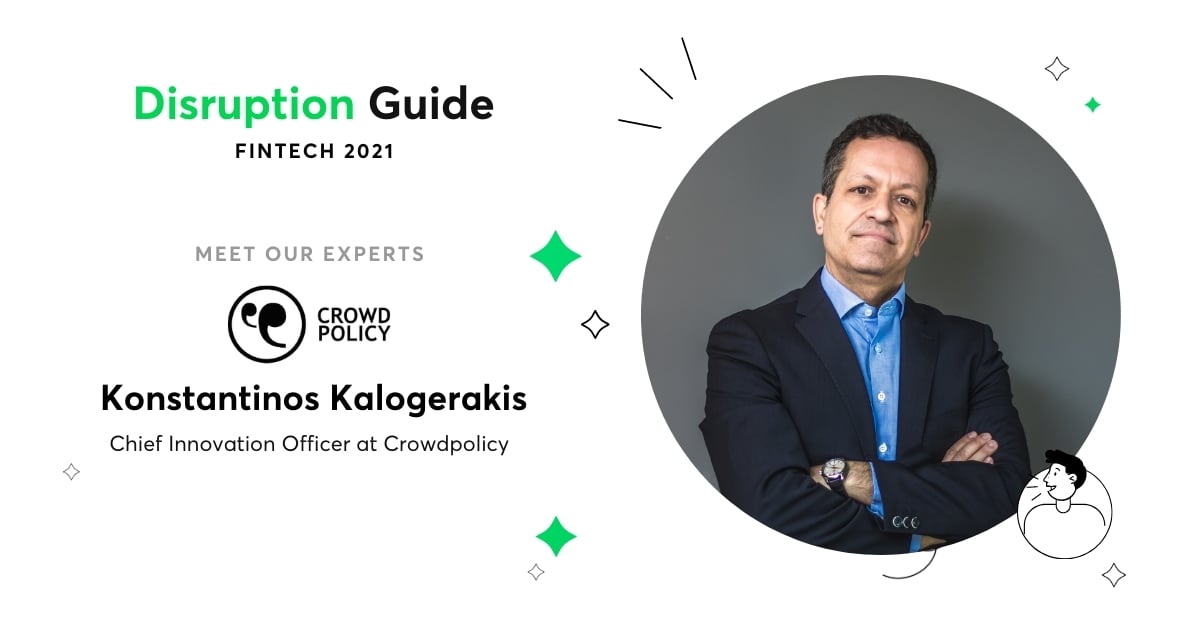 The name of the game, now more than ever, is speed
The COVID-19 effect reshuffled market dynamics during 2020. Its impact not only boosted acceptance of everything digital on the end-user side but also brought to light a lack of readiness and agility where it existed.
On a positive note, the financial infrastructure adhered quite well, and most players in the fintech ecosystem were highly responsive, from incumbents to newcomers. In this new environment, Big Tech is poised to forge ahead, and we saw an increase in their activity, which started even before the pandemic, for example, with the launch of Apple Card.
On the other hand, some fintechs took advantage when their offering tackled urgent user needs, as in the cases of buy-now-pay-later (BNPL), personal financial management (PFM), and e-commerce payments.
Overall, we observed significant changes in specific verticals of the fintech space, with everyone playing catch-up as things evolved rapidly. The name of the game, now more than ever, is speed.
COVID-19 has accelerated the progression to a post-fintech world
The impact of 2020 will be felt for years to come. There is no question that we will be talking about a completely new and post-fintech world, much earlier than anticipated. Fintech is already the de-facto state of play in financial services. Users will continue to be educated in digital customer journeys across all sectors. Startups will continue to discover new use cases leveraging deep tech. And traditional banks will either follow this trend to become totally customer-centric or risk market marginalization.
In 2021, the digitization of every front and back office will continue to transform the landscape for the traditional players, and there is a huge opportunity for B2B fintechs to support this transition.
For B2C players, it will be particularly challenging to sustain growth if their business model does not apply to the new customer demands, so the polarization between the winners and losers will be more evident in 2021.
National policies are supporting the growth of fintech companies
Many countries have acknowledged that fintech is a dynamic sector with high growth potential building on the omnipotent banking sector. For example, in Europe, fintech growth in the past few years has been driven first by open banking in the UK and second by the PSD2 (Payment Services Directive) regulation that came into force in 2019. This is a fine example of how policies push market evolution.
There is now a whole ecosystem of hundreds of Trusted Third Parties (TTPs) with licensed access to banking data that raise capital and grow in different markets. For the time being, there is still fragmentation and not many scaled cases across Europe, but this will change, especially now, post-covid.
Another example is the increase in the number of regulatory sandboxes offered by central banks that promote experimentation and innovative business models.
The regulatory environment is a critical part of the fintech ecosystem. As we move from physical to digital interactions with an accelerating speed, regulations will, rightfully so, focus on various risk factors concerning cybersecurity and data handling. As a consequence, innovators will need to navigate these complicated waters carefully.
In the next few years, the trend of open banking will evolve into other areas such as lending or investing. In Europe, we will see a revised PSD2 towards a Financial Services Directive, not only Payments.
This broader scope will facilitate many more use cases in the hot trend of embedded finance, according to which, every company will integrate fintech solutions. Running a fintech business will therefore be much more exciting and dynamic.
Remote working gives smaller hubs the opportunity to attract fintech startups
The most friendly places to start a fintech business are those where there is a concentration of human capital, a friendly regulatory environment, rich funding mechanisms, and a scalable market.
In the Western world, the usual suspects are, for example, San Francisco, London, New York, and Berlin, and towards the East, we have Singapore and Hong Kong. But with the new remote work conditions, there are many more opportunities for smaller peripheral hubs to reposition by attracting talent.
📊 Agile Responses to the Pandemic
1. Trade Ledger
2. Kabbage
3. Nimbla
4. NorthRow
5. Innovesta
6. iwoca
7. nCino
8. ODX
9. Lendio
10. Yoello
🤑 Biggest IPOs in 2020
1. Root Insurance
2. Nuvei
3. nCino
4. Upstart
5. StepStone Group
6. Lemonade
7. Paya
8. Ccoin Network
9. Mode
10. Open Lending*
🏙 Most Friendly Cities
Many ingredients go into creating and building a successful company, and location is one of them. On this list, you'll find ten of the most fintech-friendly cities in Europe and North America. We compiled it based on rankings in the Findexable Global Index 2020, which takes into account many factors, including a city's talent, financial strength, the competitive landscape, and enabling regulations.
1. San Francisco Bay
Home to nine of the ten biggest fintech companies in the United States
Boasting the best fintech ecosystem in the world, San Francisco is home to almost half of the companies listed on the Forbes Fintech 50. The city hosts several major fintech events throughout the year alongside incubators and accelerators established by leading companies such as Mastercard, Deutsche Bank, and Wells Fargo.
Biggest fintech companies: Stripe, Coinbase, SoFi
2. London
Vibrant global fintech hub with more than 20 accelerators run by major companies
London hosts numerous accelerators and incubators from companies like Barclays, Santander, and Citi. The city also benefits from a regulatory environment that supports financial innovation, including the Financial Conduct Authority's sandbox, which has become a benchmark for innovation worldwide.
Biggest fintech companies: Wise, Greensill Capital, Starling Bank
3. New York
Known as the 'insurtech capital of the world' for its cluster of insurance companies
Hot on the heels of San Francisco, New York boasts a thriving fintech scene. Capital One, Mastercard, and JPMorgan Chase are among several high-profile companies with accelerators and incubators in the city, and events such as New York Fintech Week and Finovate Fall attract attendees from around the world.
Biggest fintech companies: Oscar Health, Lemonade, Petal
4. Los Angeles
Popular alternative to New York and the Bay area due to its lower cost of living
Fintech companies are increasingly gravitating to Los Angeles to avoid the high costs and hypercompetitive business environments of New York and San Francisco. Access to talent remains strong in the city, and some companies have benefited from being based close to UCLA, a further source of top talent.
Biggest fintech companies: Aspiration, Tala, Dave
5. Boston
Centre of financial innovation bolstered by strong links to higher education
Boston's reputation as a hub for technology and innovation is growing. The city benefits from various incubators and accelerators, including TechStars, FinTech Sandbox, and the IDEA Lab. Another key advantage is its proximity to some of the country's best universities, including MIT and Harvard.
Biggest fintech companies: Toast, Flywire, Circle
6. Berlin
Largest fintech hub in mainland Europe
After London, Berlin is widely regarded as Europe's most significant fintech center. The city is home to several incubators and accelerators, including FinLeap, Techstars, and the Axel Springer Plug And Play Accelerator, which supported the hugely popular direct bank, N26.
Biggest fintech companies: N26, Taxfix, Penta
7. Toronto
Second-largest financial hub in North America behind New York
Home to Canada's four largest banks and eight of the ten largest Canadian asset managers, Toronto is a hotspot for fintech companies. The area plays host to a number of large events, including the Futurist Conference – Canada's largest blockchain conference – and Fintech Canada, part of Canada Fintech Week.
Biggest fintech companies: Wealthsimple, TouchBistro, Clearbanc
8. Chicago
Focal point for fintech activity in the Midwest
Chicago has more than 400 fintech companies operating in the city, and the availability of talent is high, reinforced by a strong presence of top business universities in the area. The city is supported by Currency, Chicago's fintech center of excellence, plus a selection of incubators and accelerators, including Techstars.
Biggest fintech companies: Avant, M1 Finance, Enfusion
9. Paris
Growing fintech hub aided by government support for startups
In 2017, the French government pledged to make the country more startup-friendly and announced a series of labor reforms. Since then, Paris has become home to Station F, the world's largest startup campus. Other accelerators include 104factory, and the city also hosts major events such as Paris Fintech Forum.
Biggest fintech companies: October, Shift Technology, Spendesk
10. Atlanta
Known as 'Transaction Alley' due to its high concentration of payment processors
A low cost of living and a substantial talent pool have boosted the growth of fintech in Atlanta. Initiatives such as the Georgia Center of Innovation for Information Technology have also helped by connecting fintech companies with the resources they need to grow and thrive.
Biggest fintech companies: Kabbage, LendingPoint, GreenSky