NYC Startup guide: How to Survive in New York City as an Emerging Tech Company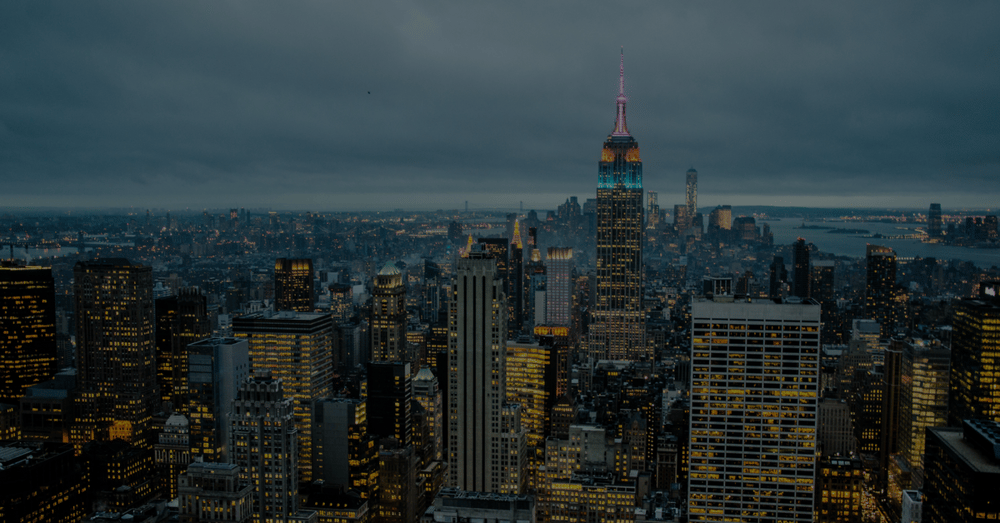 The NYC tech ecosystem and mature financial markets offer plenty of opportunities for young startups to flourish.
However, when faced with strong competition, many startups die before they ever close a deal. To help NYC-based startup founders succeed in their ambitious projects, we're presenting a comprehensive guide on how to survive on the NYC tech market, focusing on fund-raising, building efficient media and PR strategies, finding a great development team, and doing marketing and sales the right way.
Overview of the NYC Tech Ecosystem
New York (NYC) tech ecosystem (Silicon Alley) currently ranks as number two in the country, only behind Silicon Valley. In 2016 alone, 421 NYC-based tech companies raised $9.5 billion in funding. Many NYC startups have become extremely successful. Over 100 exits in 2016, totalling $5 billion, are a proof of this. The biggest tech industries in New York City are FinTech, HealthTech, SaaS, AdTech, co-working, and digital media, to name a few. As an entrepreneur searching for the lucrative industries to invest, you should be closely following B2B (Business-to-Business), Consumer Web, HealthTech, and FinTech – the fastest growing sectors of the NYC tech market in the years 2016-2017.
The last thing to worry about when starting your tech business in New York is the availability of investment sources. In April 2017, NYC had a 36-percent share of total US startup funding with more than 290 investors backing 1333 businesses. NYC has one of the richest VC s(Venture Capitalists) (e.g. Lerer Hippeau Ventures), angel investors (e.g. Adam Rothenberg), and angel groups (e.g. New York Angels). Also, there are over 30 startup accelerators and incubators – many of them in niche markets (FinTech, HealthTech, AdTech) – where your company can secure seed funding, mentorship support, and access to potential clients and investors. Among the most popular accelerators in NYC, one should mention Entrepreneurs Roundtable Accelerator, AngelPad, TechStars, Betaworks, Grand Central Tech, BluePrint Health, and FinTech Innovation Lab.
See also: The 7 Biggest NYC Startup Funding Rounds in the First Half of 2017
NYC is also a great place to work and live. It will be easy for your startup to find excellent co-working spaces like the ones rented out by WeWork, an NYC startup that offers co-working spaces for entrepreneurs, startups, services, and various community groups.
Finding The Right Investors and Pitching Ideas
Once you have an idea or a working prototype of your application, it's time to find the right investor and get funding. Finding investors is a hard task in its own right. Even harder is finding the investor whose goals and mission are aligned with your own. Before making your choice, though, there are several funding opportunities in NYC that you should know about.
Startup accelerators
If you own an early-stage startup seeking funding, you can try to apply to join one of the numerous startup accelerators in NYC. Accelerator programs not only provide selected startups with seed funding (~$20,000-$100,000) but also help establish connections with potential consumers and investors. Most accelerator programs also finish with Demo Days – events at which startups have an opportunity to present their ideas to the investor community. Demo Days are a great opportunity to find potential investors who might be interested in your product.
In preparation for the Demo Days, many startup accelerators organize fund-raising sessions that teach your team how to pitch ideas to investors. For example, the Entrepreneurs Roundtable Accelerator (ERA) program includes Fundraising Sessions that cover funding categories, cap tables, understanding and preparing to meet your potential investors, tracking and follow-up meetings, investor decks, and more.
Many accelerators also include pitch sessions that help you practice, revise and refine your pitch, get feedback from your cohort, entrepreneurs, and investors. Accelerators often help new companies with evaluating the appropriate financial partners for your business, so you don't buy a pig in a poke.
Angel networks
Unfortunately, only a fraction of companies that apply for accelerators get selected. Others, however, have a chance to get funding from many angels and angel groups, that is high net-worth people who invest their personal money in startups in exchange for equity. There are plenty of angel groups in NYC you can select from: New York Angels, 37 Angels, Empire Angels, JumpStart Angel Network, and many more. You can get a comprehensive picture of the NYC angel market in online platforms like Angel Investment Network. To make sure you find the right investor for your startup, you can check their investor portfolio to see what types of business they have already funded. This will help you identify whether your potential investor is risk-averse or risk-seeking, what equity share they usually take in startups, and whether they would like to have a controlling interest in your company.
Online startup networks
These days, tech startups have an opportunity to find the right investor using online startup platforms such as Gust. Gust connects young companies to thousands of angel investors and VCs across the world. The system provides a single shared application form and features a Gust Company Profile that guides you through the process of your application and connecting with the right investors.
Among other channels to search for investors, one should mention professional social networks such, e.g. Linkedin, and crowdfunding platforms such as Kickstarter. No matter what option you select, you should make sure that the investor you choose is perfectly aligned with your company's goals and mission.
Finding a development team
Many early-stage startups experience a hard time finding a professional development team for their project. Since many top developers are already employed, you should have a lot of value to offer to attract them to your team. There are several efficient strategies for building a good development team.
Getting as connected as possible to the NYC tech community
Even before you launch a tech company, your team should visit the key tech events in NYC, including meetups, conferences, and hackathons to get to know the developer community, identify rising talent, and meet professional developers. You should definitely select the key conferences and meetups that fall within a realm of your future product and start visiting them now.
There are several regular tech events in NYC you might consider visiting:
NYC.rb

: the place to meet experienced Ruby and Rails programmers in New York.

Hack and Tell

: A meetup where you can present your idea or hack and get honest feedback from the best specialists in the field.
Getting top developers' attention with good job descriptions
Many top developers will be reluctant to join your startup project, because it would be a 'terra incognita' for them. Instead, they would rather work for established companies with a good track record and a stable platform. However, if your startup has an innovative idea behind it, your task will be to present it properly to great developers you want to have in a development team. Talented developers will want to work on something intriguing and with a sensible tech stack, so your job description should convey both of those.
Hiring a remote fevelopment teams
Today, young companies can opt for hiring a remote development agency that can provide a comprehensive bundle of development and consultancy services. Working with a remote development agency, you will get a strong and coherent team of developers with professionals who have already worked together and accrued shared competence, processes, and experience. Being able to adapt to your internal processes and requirements while supplying all the tools needed to launch your product, remote developer teams can constitute a cost-effective alternative to in-house developers.
Reaching out to key media and tech people
To make your startup successful, you should find tech media and influencers that will tell the world about your idea. The more people know about your startup, the more potential clients, investors, and supporters you can get. Therefore, your media coverage should not be limited to NYC media outlets, although some of them such as The Wall Street Journal or The New York Times can give you a great press coverage.
One of the best places to tell people about your startup is Business Insider, an NYC-based digital media site that covers startup stories and ideas for the community of investors and entrepreneurs. Another great publisher is AlleyWatch, an NYC-based online magazine that covers startup news, opinions, reviews, and events happening in the Silicon Alley. Their site contains a "Tell us about your startup" section, which will be a good place for your company to get more publicity.
It's not only important where readers find information about your company, but also who writes about you. To get the most authoritative opinion about your company, you should identify the key influencers in your area – the best tech journalists, entrepreneurs, startup founders, and investors.
See also: The Most Successful Start-Up Founders of New York in 2017
Speaking about top journalists in the USA, one should mention a few names you ought to be following:
Walter S. Mossberg

, a veteran of tech journalism who was, from 1991 through 2013, the principal technology columnist for the Wall Street Journal and currently is Executive Editor at the Verge and Editor-at-Large of Recode.

Emil Protalinski

, a tech journalist and reporter who has written for various internet technology news websites such as The Next Web, Ars Technica, CNET, and ZDNet.

Jordan Crook

, a senior writer focusing on Internet culture, consumer-facing technology, and social networks. Jordan hosts many live events organized by TechCrunch, including regional TC Pitch-Offs and TechCrunch Disrupt conference.
Tips for marketing and sales
Running a successful marketing campaign and closing the first deal is important for any young company. Most startups, however, fail to design their marketing and sales strategies properly. Below are some tips to make your company stand out from the rest.
Market your product before it's ready
It's wrong to wait until your product is launched and polished. It would be great if you could run a proactive campaign to raise the awareness of your product and let your potential customers know that your product is coming. Your company's website should include a comprehensive description of your upcoming product, your company's contact details, and a demo for potential customers to find out more about your product before it is released. This way you can get customers to pre-order your product well before the launch.
Test your marketing
Finding the best way to market your product comes by trial and error. Your best bet is to run multiple types of marketing campaigns in distinct batches and track their conversion rates. You will be able to compare different marketing channels and types of marketing to figure out which of them perform best.
Learn more from your first consumers
The best feedback about your products you can get will be provided by your first customers. Once you make the first sale, stay in touch with your customers to understand the challenges they faced and discuss the ways to make your product better suited to their needs. The first-hand experience and feedback of your consumers will help your startup move in the right direction and attract even more clients.
Information about relevant tech events
The NYC tech scene hosts many tech events on a daily basis. To get notified about events that might be interesting for your startup, you can use popular event platforms such as Eventbrite, which will help you discover new events in the city. Startup founders can also follow events organized by NYC accelerators. They offer a great opportunity to learn more about launching your company and meeting potential investors. For example, NYC-based TechStars accelerator organizes TechStars Startup Weekends, where you can learn the process of going from concept to creation, join or build an all-star team, and exchange innovative ideas with your peers.
Also, some startup platforms like StrtupBoost (previously AlleyBoost) frequently organize events that bring the top talent in Tech together for Startup Mixers, Panels, and Workshops. StrtupBoost hosts Business Development Dinners, presentations, expos, and conferences, which will help your company become a fully-fledged part a vibrant NYC ecosystem.
Finally, if your company is still in its early stages, you should definitely be watching out for events organized by co-working centers that focus on startup mentorship and education. For example, Colab Factory runs many events along these lines.
See also: Top 15 Most Successful New York Startups in 2017
Hopefully, the advice and information given above will help you create a successful NYC startup that will become an integral part of NYC's booming tech ecosystem. Creating a new company is hard, but once you know how to find investors, set your marketing and sales strategies, and ensure effective media coverage and PR, you'll have a chance to join the elite league of successful NYC startups.