How to Handle Projects Like a Pro – a PM Guide by Netguru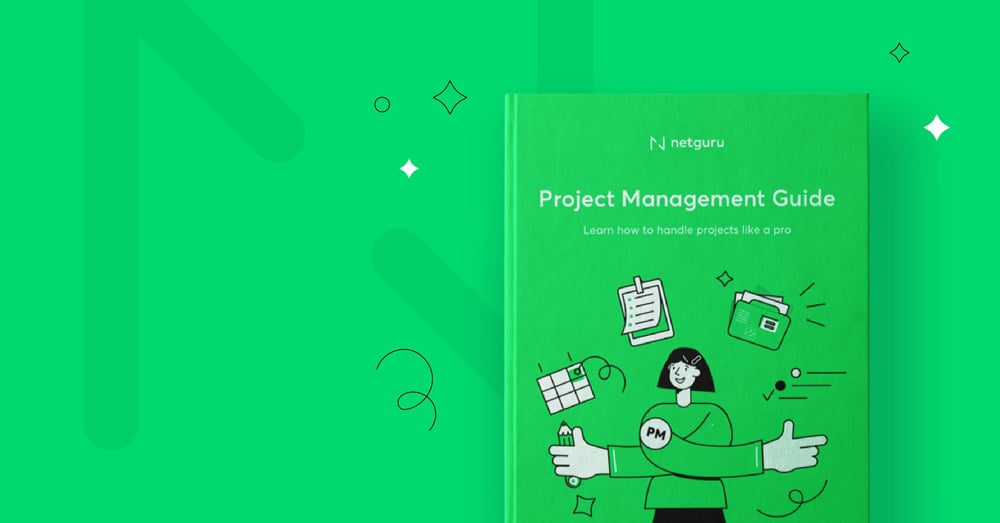 Lessons learned do not account for much unless they are recorded, improved upon, and spread. Sharing knowledge is one of the pillars of our culture. We came to a point where we realized that we'd learned so much in recent years, we had outgrown the bandwidth of our usual publication channel – our blog.
A need had emerged for a new medium to store our knowledge. That is why we made it a point in our Netguru PM team to iterate on our first ebook and make it even more accessible than before. Here's the end result, our Project Management Guide.
Why is reading it worth your time?
It's authentic. Written by PMs for PMs, it's a cumulative record of best practices based on real, up-to-date projects that we have worked on with clients both large and small, ranging from self-funded startups to enterprise clients and global brands.
It's actionable. Our profession makes us allergic to vagueness and lack of clarity – our guide is a countermeasure to that. Packed with tons of tips and tricks, it will equip you with tools and strategies to tackle the challenges you face throughout your projects.
It's comprehensive. We do not solely focus on project management per se, but look at key domains that are parts of the equation in the process of creating digital products. From the skills and characteristics that project managers should exhibit and cultivate, through key processes and events happening within the project life cycle, to the human aspects of our work – aligning and organizing talented individuals in the pursuit of a common goal.
The PM guide in numbers:
19 authors from the flock of Netguru Project Managers.
29 texts covering the ins and outs of modern project management practices.
34K+ words of our collective knowledge.
37 GitHub issues involving dev, design, marketing, and PM tasks.
45 pull requests which show our PMs are not afraid to dabble in tech :)
Who should read it?
As the name suggests, the main audience we are targeting is both professional and aspiring project managers, yet the content of our guide has been written with other roles that contribute to creating software in mind, be it Product Owners/Managers, Engineers, Designers, or anyone interested in helping teams step up their game to achieve their true potential.
Sound like you? Waste no time and enjoy reading it here :)
We hope you'll find it useful and won't hesitate to share your feedback with us at pm@netguru.com.