Meet Google Docs for Lawyers
One web app to store, update, and share all legal documentation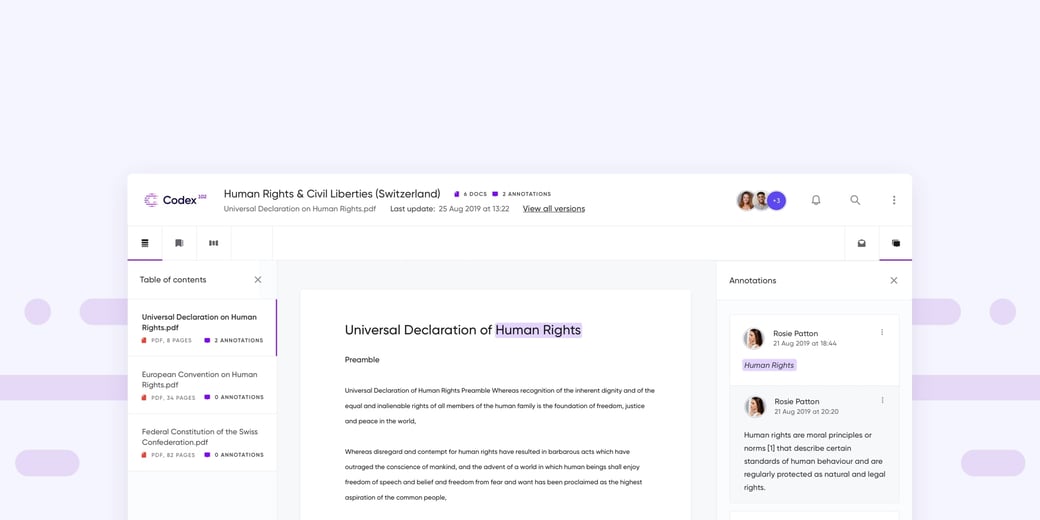 Revolutionising the world of codes
Hefty codebooks thickly covered with hand-written annotations accompany lawyers in everyday work. Despite its prevalence, this practice of annotating is neither convenient nor effective. It makes finding the right information difficult, especially with regular law updates.
Codex102 seeks to change this situation. The web app aims to provide law practitioners and students with a handy tool to effortlessly annotate, update, and share their legal documentation.
The toil of keeping legal annotations up to date
Buried in documents and continuously flipping through law books with thousands of sticky notes – this stereotype of a lawyer exists for a reason. Lawyers need to keep up with current regulations and they commonly annotate their codes for future reference.
Yet, when law updates come out, they have to move their notes. With changes taking place several times a year, even the smartest annotation system may fail. As a result, lawyers often lose track of their notes and where to find the information they need.

From scattered papers to digital innovation
Frustrated with this situation, Richard–Codex102's founder and a legal practitioner himself – knew that there must be a way out. If digital technologies have been transforming all other areas of work, why couldn't they simplify creating, maintaining, and updating legal annotations?
That's how the idea for a new tool was born. The application's goal was to digitise the annotation process and free lawyers from carrying around paper documentation.
With advanced annotation portability features, the product could become a Google Docs for lawyers – a single place to organise, update, and share their relevant legal documentation. As a result, it could simplify accessing the knowledge and staying up to date with the codes.
How to start turning ideas into reality
Easy to understand, the idea of transferring annotations across updated documents proved more complex to implement.
Codex's102 founder started discussing the feasibility of his concept with the Netguru team. After many discussions they found a way to make an algorithm and transfer all data.
Taking full ownership
Netguru took full ownership of the product development process. Following the value the MVP was to deliver to end-users, we identified and scoped top priorities–from software development to UX design, PDS workshops, and usability testing.
"One of the most reassuring aspects of the project was that Netguru was able to advise on almost anything. And when they weren't sure about something, for instance when developing an annotation transfer algorithm, they would openly admit it, investigate, and return with a solution." - Richard Rodriguez, CEO of Codex102
Crack the code
The most challenging element of the project was the development of an algorithm for code annotation portability. Netguru split it into two main tasks.
The first one consisted of finding a way to parse PDFs consistently for the server to retrieve the text from the selected locations and find the new ones.
The second task revolved around porting and finding the place where the transferred annotations should sit in a new document. The algorithm had to match only one spot, so Netguru created a custom method of finding and verifying such locations.

Looking towards the future
Thanks to a careful preparation and management process, Netguru delivered the MVP on time and on budget. The beta version of Codex102 launched as a web app in early 2020. So far, its users' feedback has been positive.
Despite challenges, such as a fixed budget and a short timeline, the team managed to accomplish all goals. Following the initial brief, Netguru took full ownership and used detailed tracking to deliver all elements according to the plan.
Codex102 enables legal practitioners to access the knowledge they need and stay up to date with the codes. As an integrated platform, it has the potential to become their trusted single source of truth.