Netguru is constantly growing and evolving, and so is our recruitment process. We've made many improvements since last year and improved our various career paths - both for programmers and for non-tech employees. I'd like to explain our recruitment process, so you'll always know what to expect after clicking the "apply" button on our career page.
How to apply:
It doesn't matter whether you're a junior open to learning but not particularly qualified (yet!), or if you've already gained experience in some area of expertise. If you have the talent and passion to deliver, we'll find you the right place among us.
Let me walk you through these two scenarios:
1. You're not experienced yet, but you'd really like to learn and improve your skills.
Netguru is the perfect place for your professional career to evolve. For everyone who's eager to learn and not afraid of challenges, we have free coding workshops (Netguru Code College).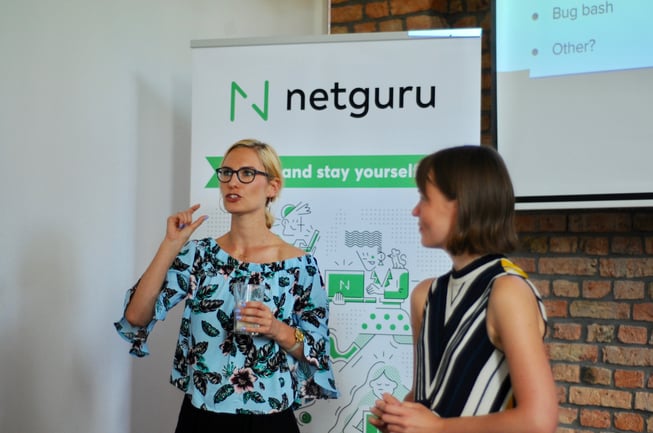 Once the workshop is over, participants are more likely to start their career at Netguru, since they are already familiar with our working culture.
2. You're already experienced and ready for new challenges.
Our door is always open to experts. If you've already worked in a similar position and you're not afraid to speak English on a daily basis - you've come to the right place. All you need to do is click the "apply" button, fill in the form and forward it to us. Don't worry: our recruitment team will take it from there and walk you through our recruitment process as soon as possible.
But first things first. Before you decide to apply - make sure you meet all of these requirements, which are universal for every job opening at Netguru. If you meet the following criteria:
you have exceptional communication skills,

are fluent in English (minimum B2; C1 for project management, marketing and sales positions),

can focus on continuous learning and self-development,

have the ability to search for answers and drill down into the topic you're working on,

love new technologies,

appreciate start-up-like organizational culture and atmosphere...
...that means you're ready to join us!
How to join Netguru in 5 steps
1. Send your application
Once you click the "apply" button on our careers page and fill the questionnaire, your application shows up in Workable, our recruitment tool. We recommend you upload your CV in English.
If you're a developer, paste a link to your Github or Bitbucket profile - we need to check your code before we decide to invite you for an interview. If your application meets our requirements, you'll be invited to the next stage: recruitment tasks.
2. Recruitment tasks
It's worth highlighting one more time - we want to see how you think and act in practice. Your CV is important, but not crucial. This is why you'll receive a few assignments from us. We give you three days on average to complete your assignment and send us a shareable link to your answers prepared using Google Docs. When completing your assignment, make sure you are as precise and creative as you can.
For non-tech positions, we often conduct a language audit at this stage. It consists of a simple remote interview with our English expert who will have a casual conversation with you and ask you to complete some tasks to verify your level of proficiency in English. The meeting will take maximum 30 minutes.
3. The interview
After we have gathered and checked all your completed tasks, we send interview invitations to candidates who rocked with their answers. The interview is usually conducted by one person from the Recruitment Team and one person from the team you're applying to join.
The meeting will be focused on your previous achievements and motivation to work and learn. We want to verify if you will be a good fit for the team. We might also ask you to clarify some answers from the previous stage. The interview will either be remote via Google Hangouts, or we can meet in person at our HQ - it's up to you.
4. The final meeting
If you made it this far - congratulations, you're just a step away from joining Netguru! There's one more, relatively short (around 20-30 minute long) meeting with your future team leader and senior team leader. This talk is mostly focused on your work attitude, motivation and career goals.
4.5. Pair programming (for developers only)
Your skills are a crucial factor that helps us choose the best developers, and that's why we invite all promising candidates to a pair programming session in which you'll spend around 45 minutes on coding simultaneously with one of our experienced developers. Feel free to share your doubts and ask questions - you'll have our full attention during this session.
We conduct this whole meeting remotely, via Google Hangouts, so you can relax and sit comfortably on your own couch. Just make sure that your internet connection works properly and set up your microphone and camera - and you're good to go.
5. Job offer
If everything goes well at each of these 4 steps - you'll find a job offer in your mailbox very soon!
6. Onboarding
Once you accept our offer, the community team will take care of your onboarding process. You're in good hands!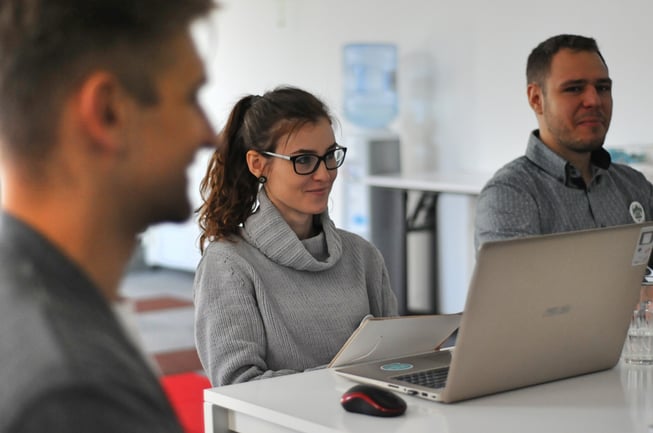 You didn't get the job? It's not the end of the world!
Our team is constantly growing and there's always a bunch of job posts on our careers page. If you didn't get the job you applied for - feel free to send your application for any other position that suits your requirements. In case you'd like to give the same position another try, we ask you to wait 6 months before your next attempt.
Also remember that you can always ask for feedback.
What else…
Don't be surprised if we respond to your application in English and use it during the interview. It's a part of our recruitment process, we need to check how comfortable do you feel with the language.
Do you know everything you need to know? Don't wait another second, check our career board and click the "apply" button - we are be thrilled to meet you.
In case you have any questions or doubts - you can always drop us a line at jobs@netguru.com.